To celebrate the Sounders 3-0 record (!!!) I'll post some yarns that closely match the team colors. First we need an example of the colors, and here we have
Osvaldo Alonso
, one of my favorite players.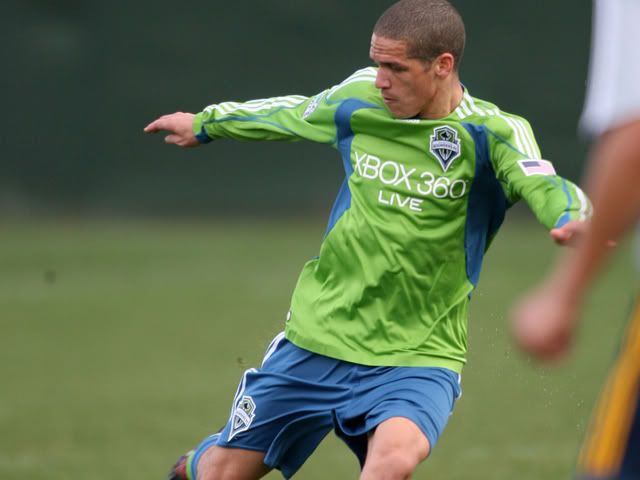 the hardest working man in the MLS

I was surprised by the number of likely candidates I found with just a little poking around. No doubt there are a lot more yarns that would work for Sounders fan handknits, suggestions in the comments or via email are welcome.
I first checked out
Dale Baby Ull
, my #1 yarn, but I can't see a green in the current line that closely matches the rave green. I have some green and blue Dale Baby Ull that are good matches to the team colors, but I lost the labels and don't know the #s. After some googling I believe they are spring green #8523 and bright blue #5726. The spring green has been discontinued, but it's still available at some online shops. (While looking around online I saw another Dale Baby Ull blue also called bright blue, but it has a different # and is not the same as 5726. Be careful if you order online, go by the # and not the name.)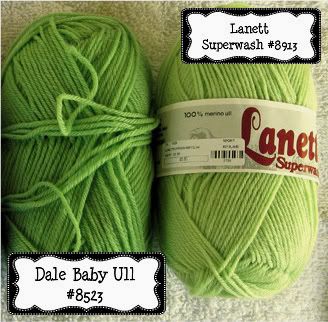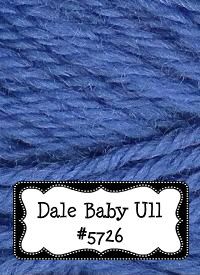 I tried to photograph bright blue #5726 on different days, in different lighting conditions, inside and outside, with flash and without flash, and it refuses to be photographed properly, so I've given up. I found the above image of #5726 on
www.yarnsunlimitedpa.com
and this is close to how it looks in real life, though I think it's a better match in person. (Note: I've never ordered from yarnsunlimitedpa.com and I have no affiliation with them, I found their shop while googling for Dale color cards.)
The
Sandnes Lanett Superwash
in lime #8913 is a touch lighter than the Dale Baby Ull #8523. It would also work in a handknit Sounders hat or scarf, though Baby Ull #8523 is a little more accurate. (I've used Lanett Superwash in the same pattern as Baby Ull, they're both fingering weight superwash wools made in Norway.) I hesitate to recommend a blue from this yarn line because the online color cards are so misleading. I looked at a few just to see how the green 8913 looks in some online shops, and they range from completely wrong to close but still wrong.
-----
There are two colors in
Brown Sheep's Nature Spun
line that look promising, but I took these images from their site's online color card, which means buyer beware.

Nature Spun - blue boy #116
Nature Spun - spring break #109
If I ever order yarn from a shop that stocks Nature Spun I'll get 2 skeins in these colors just to see if they look as good in person. This is a reliable wool available in a wide variety of colors as well as different weights, and it's inexpensive. It's not as soft as Dale Baby Ull, but it's not the scratchiest wool either. I was disappointed when the only local shop that carried it closed last year.
-----
For
Knitpicks Palette
I like the look of Edamame #24257 and Blue #23722. The digital color card on the Knitpicks website makes edamame look too dull/dark and the blue too bright, but they're a good match on the real color card, which uses snips of the yarn.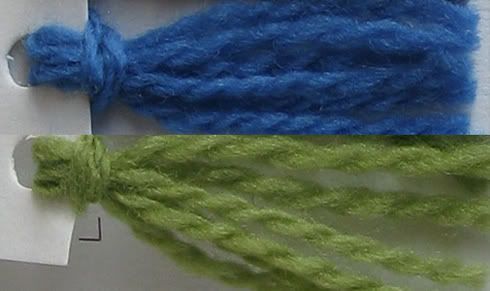 Knitpicks Palette: Edamame #24257 and Blue #23722
I looked through the Knitpicks catalog and noticed a lot of their yarns have a bright green and medium blue that would work in a Sounders handknit. I only own the Palette color cards though so I'm reluctant to guess on the other yarns; the Knitpicks online cards are notoriously misleading.
-----
If you've ever knit something to match school or team colors then you probably came to the same conclusion I did: it's a fun challenge to be as accurate as possible, but close is good enough. (I've also matched yarns for Oregon State, Minnesota Twins, Seattle Mariners, and Seattle Seahawks.) Think about it this way, if you go to a Sounders match with a green and blue hat, everyone around you will know it's a Sounders hat. If you look at the sea of fans you'll notice people wearing all shades of bright green and blue, it's not necessary to match the official uniform colors exactly. Just please make it a point to avoid Timbers green, that would be horrifying.
*needles Timbers fans*
If you have any Sounders yarns to suggest please leave a comment!