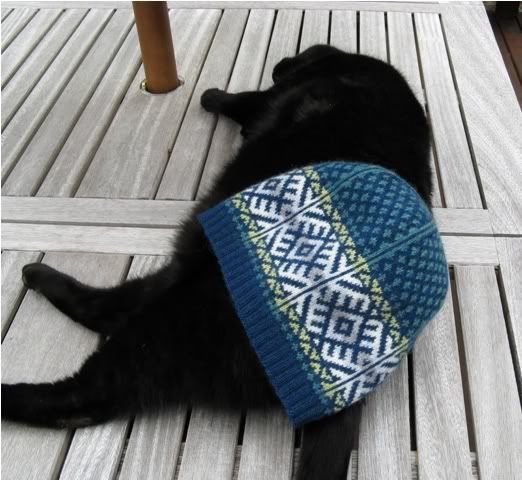 Here we have a Komi cap knit during the World Cup, started
after the USMNT went home
. (If you enjoyed watching the US team then click on that link, you will
love
it.) I can't knit when they're playing, I'm either sitting and too nervous to do anything productive (this is how I behave when others are in the room, like I'm actually sane, hee!) or pacing around and talking/pleading/crying at the TV and rending garments (that's me all alone when others had the good sense to be asleep). I only wish Charlie Davies had been healthy, we needed him badly and I'm certain we would've won more with him on the pitch. Did you know not a single USMNT striker scored a goal in this World Cup?
Charlie would've scored
, just sayin.' Still super proud of our boys for winning their group, but they expected to go even further so the 2-1 loss to Ghana was heartbreaking. It's a good sign we felt disappointment instead of simply being elated to make it out of the group stage.
I was cheering on Spain in the World Cup final, partly because
USA beat Spain 2-0 in the Confederations Cup
last year, and it's pretty cool to know our boys can shut out the best national team in the world. Iker Casillas was in goal, which made it even sweeter. I love and respect the guy, but you want to score on the best, right?
¡Viva España!
They deserved to win the World Cup, Iker deserved his Golden Glove award, I'm happy for them.
WHAT, this is a knitting blog? I mean, when I actually get around to blogging. All right, back to knitting. It's 4 years until the next World Cup, you can be thankful I don't blog about the Sounders every week. (DID YOU SEE the
Nyassi -> Montero -> Levesque's head
goal in the 89th minute last night? To win the game 1-0?! And Kasey Keller showed once again why he is Man of the Match FOR LIFE.)
OMG NO MORE SOCCER STOP TALKING ABOUT SOCCER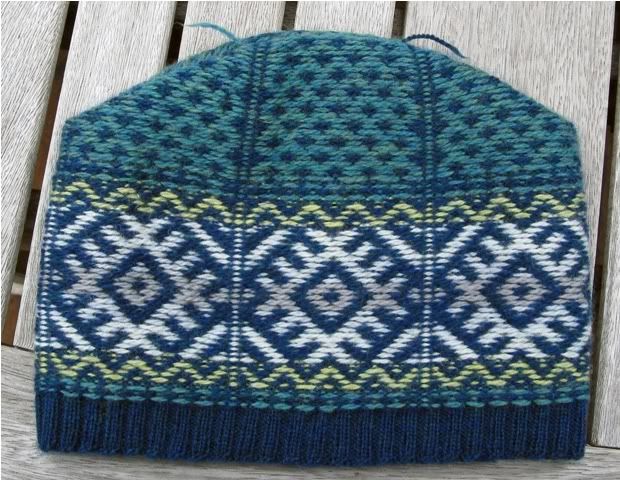 For those who enjoy seeing colorwork inside-out
(It gives me an idea of how the same patt would look as light
on dark or vice-versa, depending on your original colors)
I'm not sure who will get this. My older brother is still wearing a Scandinavian hat I made for him several years ago. When he saw me working on this Komi cap last week he asked if it was for him but it might be too small, he has a gigantic head. I know he's wearing the old hat because he actually had it on during his visit, despite the July heat. Weird brother.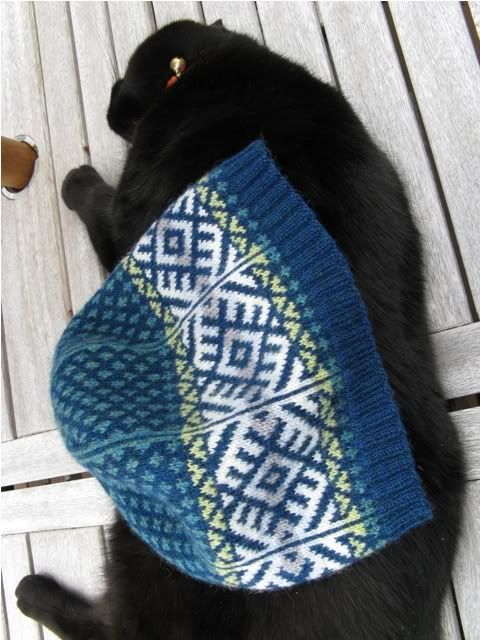 I took a dozen photos of the cap draped on Rocky, adjusting and
moving the cap around, he didn't even flinch. Whatta lump.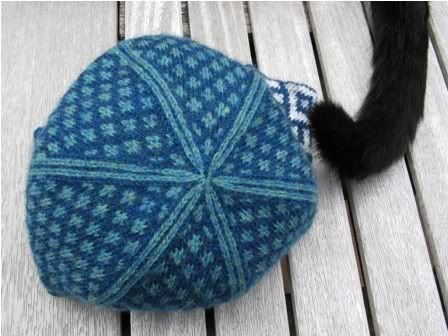 top o' the cap
Rocky's tail makes this look like part of the photo above it, cute
The pattern is found in the 2009 revised edition of
Mostly Mittens: Ethnic Knitting Designs from Russia by Charlene Schurch
. Several years ago I borrowed earlier editions of this book from the library and knit some great mittens but never got around to buying the book before the 2001 edition (titled
Knitting Marvelous Mittens
) went out of print and the price jumped. Then sad news was passed around: the book would never see a new printing, all the original plates were lost or destroyed, everything would have to be reknit, etc. I have no idea how much of that was true, but the book is available again so it doesn't matter. Martingale & Co might do a better job of keeping it in print, but I wasn't about to let this fine collection of patterns slip through my fingers again.
KnitPicks
helped out with their 40% off book sale too.
I haven't looked through the two earlier editions in a few years but I think the main difference is that a couple sock patterns were dropped and some hat patterns were added. The socks caused problems for some knitters, they couldn't pull the socks over their heels thanks to the tightly knit colorwork, so maybe complaints about that had something to do with the change.
The yarn is
KnitPicks Palette
(100% Peruvian fingering weight wool) knit at 10 sts/in and 11 rounds/inch on size 0 needles. Each round is 204 sts, which almost put me off the pattern but I decided to go for it and it still knit up fairly quickly so it's not a big deal. Colorwork always seems to go fast and hats are small projects.
KnitPicks Palette colors used (in order of appearance), less than 50g each:

Marine Heather
Tidepool Heather
Green Tea Heather
Cream
Mist
Silver
The subtle difference between cream and mist doesn't show up in these photos, the lighting washes out the light grey (mist), but there really are three colors used in the background of the main patt.
The Green Tea Heather looks different in the skein, I don't like how it looks so yellow in the hat, I expected something bright but greener. Oh well, I should've swatched all the colors together instead of placing the skeins in a pile.
This was my first time working with Palette and I'll definitely order more. It's very affordable ($1.99 for solids, $2.19 for heathers) and has a good selection of colors. The main thing I don't like about it is the same thing I don't like about most wool yarns: it makes my wrists itch. I'm envious of people who aren't sensitive to wool. I soaked the hat with Pantene hair conditioner and it seems pretty soft now, I might be able to wear it on my head.
Another problem with Palette is how the colors display on the KnitPicks website. Unfortunately Palette color cards are no longer available so you'll have to guess based on what you can see on your monitor. If you can afford to buy a few extra balls in the color range you're aiming for then you might be happy to have some options when your order arrives. Be prepared to place another order or arrange for an exchange if the blue that looks perfect on the website is completely wrong when you have it in your hands.
What's next? Mike needs felted slippers, how very exciting! zzzzzzzzzzzzzzz.