I've barely made a dent since the last post (distracted by Other Things) but now I have an incentive to get it done before October 5th ...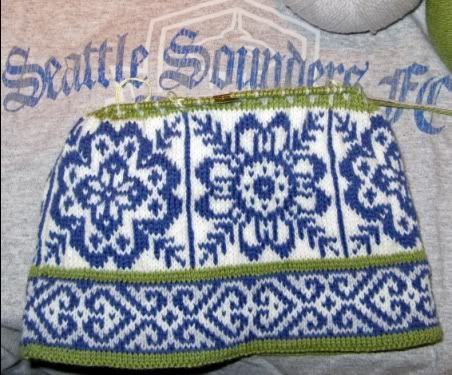 ... so I can wear it to the
Lamar Hunt U.S. Open Cup Final
in Seattle, where the Sounders will destroy the Columbus Crew to
win the Cup two years in a row. MUAH.
It's been over 25 years since a team accomplished back-to-back US Open Cup wins, which means no MLS side has pulled it off. Until now.
Watch this video, you will love it (maybe more with the sound turned low). It's a recap of the US Open Cup semi-final match against Chivas USA, which was beautiful:
http://www.youtube.com/watch?v=JQWWVB6-nkU
You might have missed this, it was streamed online but not on TV, so it's worth watching the recap if you didn't catch it live/online. You're seeing Tukwila's Starfire stadium in the video, it's a small intimate venue where the Sounders prefer to host their US Open matches due to the advantages it gives them over opponents. They cram it to capacity and intimidate the hell out of the other side, they simply can't lose here. :)
My favorite moments:
1) Zakuani working the ball and feeding it to Jaqua for goal #1 (I could watch that all day long)
2) Jaqua/BRAINS (this refers to a match last season where Jaqua sported a bloodied head bandage after a collision, thus Zombie Jaqua was born. Looks like ZJ got a little excited about the possibility of a snack there on the pitch.)
3) Jaqua's fearless header goal to seal the win 3-1 in extra time. Look at the way he charges at the ball with the keeper and defender in his path. Fearless!!
Fredy's goal (also assisted by Zak) was sweet too, but gotta give my love to Nate Jaqua and his domination of all things US Open Cup. I hope he scores in the FINAL (October 5th!) so he'll have the most goals in the 2010 tournament -- he's tied at 5 right now.
The FINAL of course will be held at Qwest in downtown Seattle.
Tuesday, October 5th, 7 PM.
We will break attendance records for an US Open Cup match (easily done in Seattle) but we want them to open the upper levels, which they will only do if the lower levels sell out.
WE CAN DO THIS!
October 5th, tickets on sale now!
Let's get Qwest rocking
and make the Crew sorry they bothered to get out of bed.
Look for me and my hat. :)